Coast to Coast Technologies: Syncro II Dongle
Connection: Floppy Drive Port (Extern)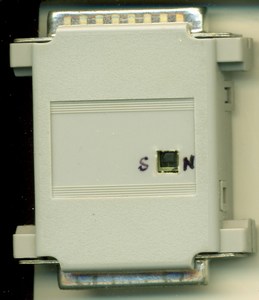 Syncro II
Closeup Syncro II - bytes
PCB of Syncro II - bytes
Backside of the PCB - bytes

This is the "analog" hardware component of the disk duplication package Syncro Express II.
Its is an external floppy disk drive dongle that sits between the Amiga and an external floppy disk drive and allows you to duplicate some copy protected floppy disks.
The hardware part has a two position switch on it.
N position is "Normal" or bypass where the floppy disk behaves normally.
S position is "Syncro" which is used in conjunction with the duplication software.
It is similar in function to the more widely known Cyclone / X-Copy dongle hardware by ASI
Contributions to this page by:
Alexander Holland, Michael Czajka
---
Einem link gefolgt? Hier gehts zur Hauptseite
Followed a link? Please go to the Main Site