Microbotics: M1230 XA
Paravision: M1230 XA
Connection: Trapdoor Slot (A1200)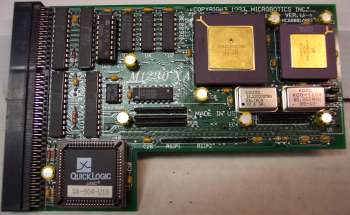 33Mhz version with 68882 FPU fitted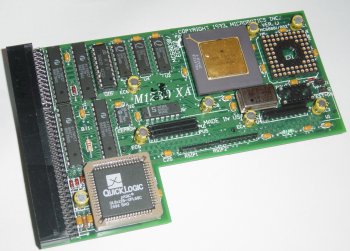 50Mhz version, no FPU fitted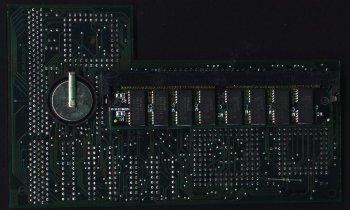 Hi Res Version, 33Mhz, Front - bytes
Hi Res Version, 50Mhz, Front - bytes
Hi Res Version of Back - bytes

| | |
| --- | --- |
| Processor: | 030@25Mhz, 030@33Mhz, EC030@40Mhz or 030@50Mhz |
| FPU: | Optional 68881 or 68882 (PGA) from 20Mhz up to 60Mhz |
| MMU: | None in EC030s, Internal in full 030s. |
| Max Ram: | 128MB |
| Ram Type: | 1 x 72pin SIMM slot |
An accelerator which plugs into the trapdoor slot of the A1200. The board allows the configuring of the RAM speed and cycle ranges manually and supports cycle ranges 1-5 and RAM speeds of 50 - 100ns. You may need to configure this with the provided software utilities. Similarly you may not see all the RAM until you use the provided utilities to add it. Includes a battery backed up clock.
In an A1200 equipped with 3.1ROM and Workbench 3.1, you don't need to run any configuration utility to recognize the installed RAM.
This accelerator is PCMCIA friendly.
Contributions to this page by:
Amiga Deals, Jack Thewlis, Orjan Lindgren, Rogerio Kauer, ViTaL
---
Einem link gefolgt? Hier gehts zur Hauptseite
Followed a link? Please go to the Main Site