Phase 5: CyberSCSI MK-II Modul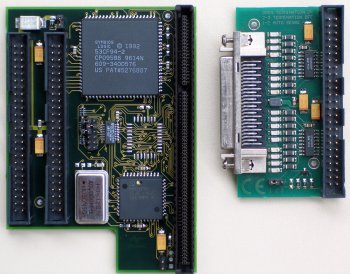 CyberSCSI MK-II Modul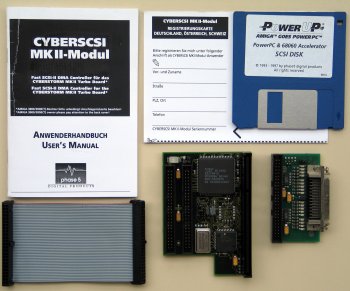 CyberSCSI MK-II Modul with items
Hi Res Version, CyberSCSI MK-II Modul - bytes
Hi Res Version, CyberSCSI MK-II Modul with items - bytes
Image of Box - bytes

The CyberSCSI Mk-II is a Fast SCSI-II controller which is attached to the Cyberstorm Mk-II accelerator. The unit comes in two sections. The first section attaches directly to the accelerator and provides 2 x 50pin headers. The second section provides an external 50pin SCSI connector and this is attached to the first section via a 50pin ribbon cable. The module supports 32bit DMA transfers at up to 10MB/sec.
Jumpers
On the external board, there is only one jumper:
Pins 1-2: Auto Termination
Pins 2-3: Termination Off
No Pins: Termination On
On the main SCSI-board there is SCSI-config jumper block in the centre of this board.
| Jumper | Function | Default |
| --- | --- | --- |
| 0 | Debug Mode | Open |
| 1 | Reserved | Open |
| 2 | Slow Inquiry Mode | Open |
| 3 | Slow Cable Mode | Open |
| 4 | Synchronous Transfers | Open |
| 0 | Reserved | Open |
| Under / Left | Hard disk LED connector | |
| Upper / Right | Termination Power | Close = Enabled |
Contributions to this page by:
Brandon Bertolli, Francisco Rabay Jr, Patrik Sjoblom, RiWa & Friends
---
Einem link gefolgt? Hier gehts zur Hauptseite
Followed a link? Please go to the Main Site