GVP (Great Valley Products): 4008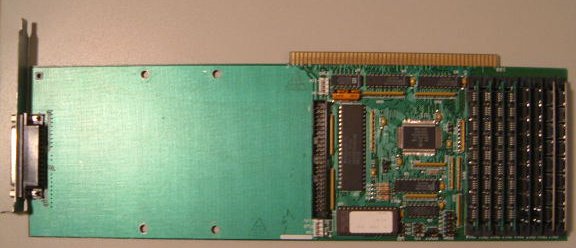 Full length Zorro II SCSI Card which allows the addition of up to 8MB of RAM in the form of 1 or 4MB 30pin SIMMS. SIMMs must be added in pairs. Depending on the card it may either have the Western Digital 33C93 chipset @ 7Mhz or the Western Digital 33C93A chipset running at 14Mhz. Provides you with an internal 50pin connector and an external DB25 pin connector. It has enough space to mount a hard drive on the card and has an LED jumper.
Jumper Settings.
Using a 2x4m simm RAM configuration.
| | |
| --- | --- |
| Jumper | 8MB |
| J5 | ON |
| J6 | OFF |
| J7 | OFF |
| J8 | OFF |
| J9 | OFF |
| J14 | ON |
Using 1mb simms (in pairs)
| | | | | | |
| --- | --- | --- | --- | --- | --- |
| Jumper | J5 | J6 | J7 | J8 | J9 |
| 0MB | OFF | OFF | ON | OFF | ON |
| 2MB | OFF | ON | OFF | OFF | ON |
| 4MB | ON | OFF | OFF | OFF | ON |
| 6MB | OFF | OFF | ON | ON | OFF |
| 8MB | OFF | ON | OFF | ON | OFF |
| | | |
| --- | --- | --- |
| JUMPER | FUNCTION | DEFAULT |
| J1 | LED Connector | |
| J2 | RESERVED | |
| J3 | AutoConfig Test | OFF |
| J4 | AutoBoot En/Disable | ON |
| J5 | RAM Setting | |
| J6 | RAM Setting | |
| J7 | RAM Setting | |
| J8 | RAM Setting | |
| J9 | RAM Setting | |
| J10 | RESERVED | |
| J11 | RESERVED | |
| J12 | RESERVED | |
| J13 | ** Undocumented ** | |
| J14 | RAM Setting | |
| J15 | DTACK Support | OFF |
Einsendungen zu dieser Seite von:
Mario Misic, Thomas Newsom
---
Einem link gefolgt? Hier gehts zur Hauptseite
Followed a link? Please go to the Main Site